Xochil Herrera Scheer: The Chicago Pattern Maker

Xochil Herrera Scheer provides professional pattern making and fashion design services to businesses and individuals in the Chicago area, and remotely to clients throughout the US.

Xochil made Chicago her home in 2003, moving from her hometown of Madison, Wisconsin. She has a BFA in Fashion Design from The Illinois Institute of Art – Chicago, and graduate degree in entrepreneurship from DeVry University. Xochil is a detail oriented, results driven task master, and enjoys the analytic side of fashion, making products come to life through strategic sourcing and technical details.
Xochil has worked with numerous brands and designers to bring their concepts from sketch to reality. She has a strong skill set in technical design, pattern making, material sourcing and production management. She has a keen understanding of the production process through working with various factories, and being closely involved with clients throughout their development. Her background in tailoring and alterations has helped shape her skills in garment fit and construction techniques.
Specializing in pattern making for both woven and knit materials, she enjoys working in the contemporary "ready-to-wear" market (and loves a good blazer). She also has extensive experience in athletic activewear performance apparel for men and women, including swimwear and undergarments. Xochil enjoys learning about innovations in materials and applying them to new designs. She also loves working with complex items and non-apparel products like accessories and bags.
Xochil is currently serving as Secretary on the Board of Directors for the Apparel Industry Board of Illinois (AIBI), and is proud to be a member of the SEAMS Association, where she contributes to the newsletter column Millennial Corner. She loves being involved in the local and domestic fashion community through promoting experiences, events and professional development. She is also passionate about Made in USA and ethical products, sourcing and manufacturing.
Xochil's work has been featured in: SPLASH, BRAVA Magazine, Chicago Sun Times, MODA Fashion Gazette, New City Chicago. Xochil was also included in a segment on the ABC 7 Chicago show, 190 North. She was honored to be named a Rising Star by SPESA in 2021.
Elaine Greiner

Elaine Greiner is a Technical Design Assistant at The Chicago Pattern Maker. Elaine graduated from Columbia College Chicago in 2021 with a focus in fashion product development and a minor in marketing. As a student, Elaine showcased her collection "Magnetic Anatomy" at The School of the Art Institute of Chicago, which merged her design concepts with her awareness and interest in sustainable sourcing and materials.
Elaine's enthusiasm for the fashion industry continued to grow throughout her college career, and was highlighted during her senior capstone project in collaboration with LEV Apparel (with Xochil as her professor). During this capstone project she was given the opportunity to design new products and create a marketing proposal through in-depth brand research.
Elaine previously worked for Chicago bridal designer Alyssa Kristin Bridal as a Business and Design Intern, and was then promoted to Patterning Assistant. In this position she was able to learn key pattern making skills, practice quality control, and regulate weekly inventory for over 45 boutiques worldwide.
Elaine's experiences have expanded her interest in technical design and the overall product development process. Having had a great experience learning from Xochil during her senior year at Columbia, she is excited to join the team at TCPM as Technical Design Assistant.
Masha Titievsky DeHaan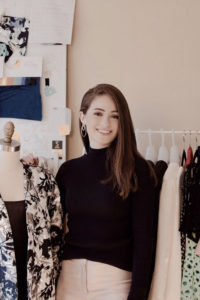 Masha Titievsky DeHaan is a talented creative and technical designer as well as certified in CLO3D. Masha focuses on creating beautiful & accurate technical sketches, compiling detailed tech packs to communicate designs to the factory in a clear and concise way. She has strong skill set in design research and merchandising, which makes her a strong asset for clients who are working through creative design details and assortment planning. Utilizing CLO3D, Masha is able to digitally sew prototypes to fit on a client's avatar, as well as render designs in their respective colors and fabrication.
Masha draws on her design and business experience from running her own designer womenswear label VARYFORM. Her designs transform natural elements into special staples with a sense of glamour and sophistication. VARYFORM has been recognized by Elle Magazine's Nina Garcia for her signature wool crepe separates and has been printed in TATLER Magazine, British Vogue, Vanity Fair UK, and Elle UK. She loves to share her experience running her own label to help other brands.
Masha is also very active in the industry, serving on the Board of Directors for The Fashion Group International of Chicago, where she organizes networking events for fashion professionals. She is also a former artist member at Positive Space Studios and an alum of the Chicago Fashion Incubator at Macy's on State Street; her degree is from Indiana University Bloomington Kelley School of Business.
highlights
 CAD Pattern Maker
Professional digital pattern making using Tukatech pattern software, Xochil is also a TUKACenter. Files are DXF Compatible, and can be exported/printed as needed.
 Active in the Fashion Community
Member (since 2007) and former Regional Director (2017-2018) and Board Member (2014-2016) for The Fashion Group International of Chicago Board of Directors; Planned relevant programming for fashion industry professionals.
Serving as Secretary (2021-present) and on the Managing Board of Directors for the Apparel Industry Board of Illinois (since 2019; member of the organization since 2007).
Member of SEAMS (since 2019) - the Association and Voice of the U.S. Sewn Products Industry, representing America's foremost fashion brands, retailers, manufacturers and textile providers.
Regularly attends industry trade shows including TexProcess Americas, TexWorld USA, and the DG Expo.
On-Set Tailor
Tailors clothing looks on-set for photo/video shoots for magazine editorials including Men's Health and InStyle, and e-commerce for companies including Kohl's, Land's End, Trunk Club, Nike, Schawk! and others. Represented by Distinct Artists.
Public Speaker + Educator
Plans and gives presentations on pattern making, technical design and other topics for small groups. Has presented with SEAMS, DG Expo, AIBI, FGI, Threaded Co., Creative Chicago Expo, Chicago Textile Expo, as well as for numerous schools, groups and as a podcast guest.
Adjunct Faculty at Columbia College Chicago in the Fashion Studies Department (since 2020).
Certificate: Union Special
Completed Union Special class to learn sewing machine maintenance, basic mechanics and trouble shooting for a variety of machines including: Single Needle Lockstitch, Overlock, Coverstitch, Flatseam ("Flatlock"), Bar Tack
Latest Blog Posts