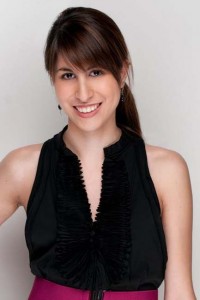 Xochil Herrera Scheer provides professional fashion design services to businesses and individuals in the Chicago area, and remotely to clients throughout the US.
Transplanted to Chicago from Madison, Wisconsin, she has a BFA in fashion design from The Illinois Institute of Art – Chicago, and graduate degree in entrepreneurship from DeVry University. Xochil is a detail oriented, results driven task master, and enjoys the analytic side of fashion, making products come to life through strategic sourcing and technical details.
Xochil has worked with a number of brands and designers to bring their concepts from sketch to reality. She has a strong skill set in technical design, pattern making, material sourcing and production management. She has a keen understanding of the production process through working with various factories and being closely involved with clients throughout the development process. Her background in tailoring and alterations, has helped shape her skills in fit and construction techniques.
Specializing in pattern making for knits, with a particular interest in athletic/fitness/active performance apparel for men and women, she enjoys learning about innovations in materials and applying them to new designs. She also has experience working with accessories and hand bags.
Xochil currently serves on the Board of Directors for Fashion Group International of Chicago, and the Academic Advisory Board for Fashion at Sanford-Brown University in Chicago. She loves being involved in the local and domestic fashion community through promoting experiences, events and professional development. She is also passionate about Made in USA products, sourcing and manufacturing.
Recognized as a designer by the Chicago Sun Times, MODA Fashion Gazette, New City Chicago, Xochil was also included in a feature on the ABC 7 Chicago show, 190 North.
During her position as Design and Re-Styling manager at a Chicago boutique, Eliana Lily, the store and Xochil were featured on a 190 North segment, which aired on September 9, 2007. The boutique closed it's doors in 2009, but Xochil still makes time for special re-design projects when available.