Beyond design, the fit of a garment is probably the most important element to consider in the product development process. I have worked with many different clients and different market segments, and sample sizes, and have to say that those who hire professional models have a better experience and often times faster time arriving at their final approved fit sample.
Clients provide their own fit models, according to their target market. Some clients opt to be their own fit model (not recommended in most cases!), or enlist a willing friend to help. However, there are four main reasons I recommend working with an agency and hiring a professional model. I asked my friend Bridget Halanski, Runway Director at MP Factor, to share some insight on working with an agency to book fit models.
In this post I talk mainly about female models, but agencies also represent male models, and even children. So no matter who your brand is designed for, you can benefit from working with a professional.
1. They know what to do.
Your model is a professional. She will arrive on time, prepared to work, and as a result, you will be more efficient.
Bridget shares that "these models are seasoned professionals who are extremely experienced with fit and showroom work—they know how to move/show the garments, give insight if asked, and act as live mannequins in sales meetings or presentations with buyers. They come looking polished with hair and makeup ready, and any shoe or wardrobe brings the client requests (including underpinnings and a neutral manicure and pedicure so not to distract from the clothing)."
This is their job, every day. They are used to getting dressed quickly, secure with their bodies, and aware of how they are standing and moving in order to show the garment properly, as well as comfortable being pinned for tailoring and revisions. It's standard to take quick snapshots or even short video to document the fittings, so even if you aren't sharing or publishing those images, it's helpful when the model has a fresh, clean look. Note: if you do plan to share any images, do check with your agent about usage guidelines, or if there is an additional fee for publishing on certain platforms, etc.
2. It's their job to maintain their size.
"Booking fit models with an agency is a seamless process. Primarily, their measurements and sizes specified in their online portfolio are accurate and current, unlike a freelance "model" or friend of the designer, that can fluctuate." Bridget notes.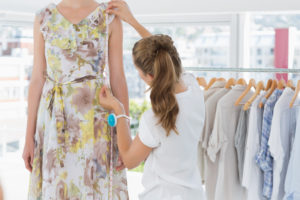 Let me tell you, there's nothing more frustrating than making pattern and sample revisions, and finding out at the next fitting that the revisions need to be redone because the model's measurements changed. And if it's your friend, it makes for an awkward conversation when you need to bring that to their attention. Professional models need to maintain their size and physique to book jobs, so they remain consistent between fittings. On that note, it's also important that you work with the same model for each fitting, so there are no other variables to worry about when reviewing your prototypes.
3. You can "shop", and choose a model who best fits your brand's target market.
It's a common misconception that agencies only represent "one size" for models, that everyone is a typical runway sample size 2 or 4. There are a variety of models represented, including plus, petite, athletic build, even different age groups. You'll be able to tell your agent what sizing or measurement specs you are looking for. Bridget explains the process: "once you specify height, size or measurements and type (including age or ethnic preference), the agent sends you a customized link of online portfolios to choose from. You can then request to see them in person for a casting to measure them and get a feel for their personality, or you can book directly."
If this is your first time working with a professional model, or you are working on your first collection, setting up a casting call to meet several models before making your decision is a great idea. You may end up loving your fit model so much you decide to incorporate them into your product photography, meetings with buyers, or events that you participate in!
4. You will be more objective as you review the garments.
It's very hard to evaluate the overall look and fit of something you are wearing yourself, and be objective. We are our own worst critics! Does a sleeve look too tight, or are you just self conscious about your arms? If you use a friend, it might be hard to critique the garment without hurting your friend's feelings. Looking at the garment on a model who represents your market is best so you can evaluate the fit, see how the fabric behaves as it hangs on the body or moves while in motion.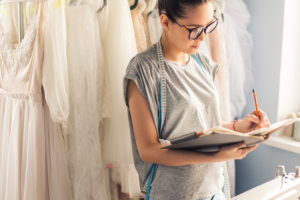 Now you understand the benefits of hiring a professional model, and yes, it does come at a price. Fit models typically have a 2-hour minimum, though models can also be booked for half day or full day if needed. In addition to the model's rate, you will pay a standard 20% agency fee for their services, plus travel reimbursement if applicable. What's great about an agency though, is your model is accountable to more than just you. If you enlist a friend or book your own model off a social media site or list serve, and they don't show up, you get no model. With an agent involved, she will get in touch with the model to confirm the job, if the model is late or a no-show, you are likely to get a reduced rate or replacement model with similar measurements.
To book a job, you'll need to provide your standard contact and billing information, date/time and number of hours needed, location and parking information, any hair and makeup directive, and items to wear or bring (such as nude or seamless undergarments, black or nude heels, etc.).  Indicate your criteria for your model including bust, waist, hip measurements, dress size, approximate height/weight, and any preferences you may have as to age, ethnicity, body type.
I work closely with Factor|Chosen and Stewart Talent, where I am also represented as an On-Set Tailor. Many modeling or talent agencies will have a division where you can choose a model who will be the right fit for your brand. If you are interested in working with Factor|Chosen or Stewart Talent, please contact Bridget Halanski for more information on booking: [email protected]