Since Illinois (and much of the US) shut down in mid-March because of the COVID-19 pandemic, we have had to shift the way we do business in so many ways. One of the major hurdles to overcome was how to do fittings when we couldn't meet with clients in person. Luckily, we are pretty comfortable with virtual fittings since many of our clients reside outside of the Chicago area, but in-person fittings are always much better and for certain types of garments, such as swimwear, it's MUCH easier to evaluate the fit when you're able to be in the same room. Fittings are where a designer can really see their ideas come to life, and are crucial to the prototyping process.
Our state moved into Phase 3 in the beginning of June, and we combed through safety guidelines which were designed with various industries in mind, in order to come up with something that would work for us, and get us back on track with client projects that were forced to be on hold. We're somewhere in between "retail" in that we deal with clothing, and "personal care services", since we have to be in close contact and there is physical touching involved in fitting a garment.
I work primarily from my home office, even before this year, and regularly had clients over for meetings and fittings, but decided that it was best for both my clients and my family, that meeting elsewhere would make the best sense -- somewhere without a child running around, and more easily able to be disinfected -- so I made arrangements with Chicago non-profit AIBI, to use their Fashion Lab, where I am a member and serve on the Board of Directors. Together we crafted a plan for how to conduct fittings safely within their shared studio space.
The below is an excerpt from my collaborative blog post with AIBI's Kat Anderson.
Who's in the Room?
Having a lot of people in a small space is definitely something to stay away from right now. So you should try to keep it to a minimum of three or four key people: the fit model, the pattern maker, the designer and an assistant if needed. One person should, from 6 feet away, be the dedicated note and picture taker (and possibly video). This limits the amount of people who have to be in close contact. The video could be shared later with anyone who isn't in the room during the fitting (or possibly video conference them in).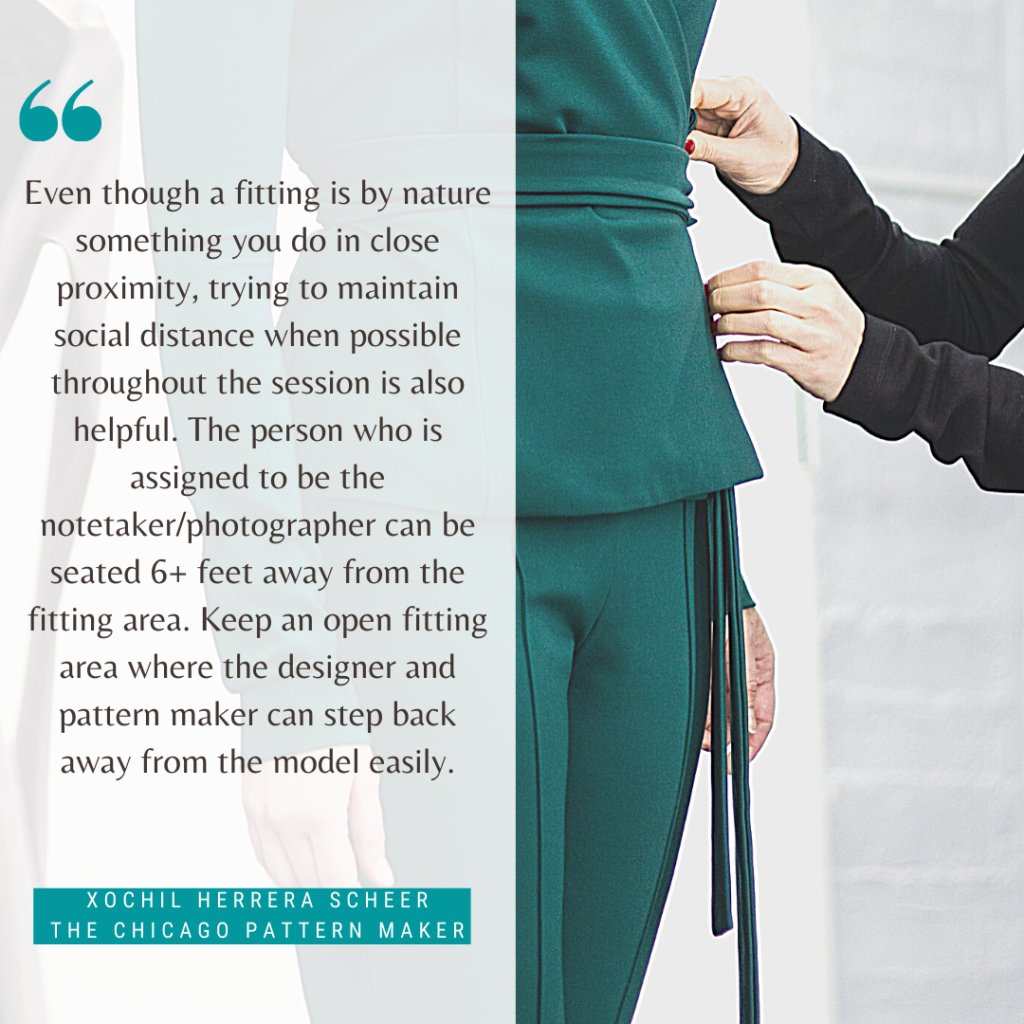 Face coverings are a must for everyone, but it looks like face shields (like this one from local company Mohop shoes) could be adequate protection especially during the short time in fittings that two people are in close proximity. On top of that it allows all parties to clearly articulate in conversation. Your face shield must come down below your chin, and wrap around the sides to make sure that you are covered properly. (You're even safer if you wear a face mask under the shield.)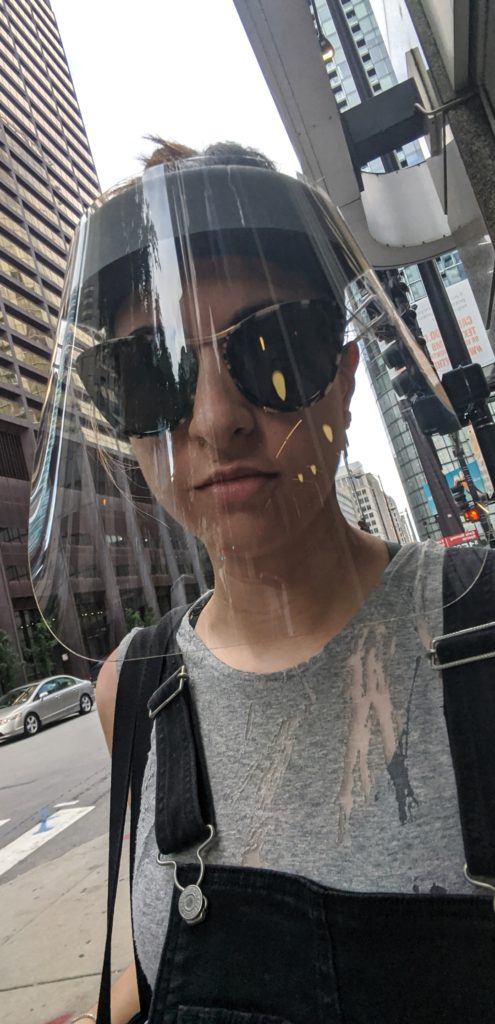 Private Changing Area Included
Ideally, there would also be a separate changing area for the model, so that they don't have to use public restrooms, etc. The AIBI Fashion Lab is available with a Day Pass for members and non-members.
Sanitation
Keep things like hand sanitizer, cleaning wipes, and alcohol wipes (for cleaning the face shields) easily accessible. Disinfect door knobs, tables and other surfaces before and after the fitting.
It's best to also set aside pins and a pin cushion separate from your usual supplies. This way you can quarantine them between fittings. Remember, according to the WHO: "the COVID-19 virus can survive for up to 72 hours on plastic and stainless steel, less than 4 hours on copper and less than 24 hours on cardboard."
A pin cushion or magnetic pin holder that can be worn on your wrist is really helpful so that you're not having to search for your supplies and again reducing unnecessary contact. Many of us are used to holding pins in our mouths (a very bad habit even before this!), in lieu of a "third hand", so keeping them on yourself makes the process go more smoothly.
It seems likely that the Coronavirus can also be killed with very high heat, so you may also want to steam the garments before and after being fitted to reduce the risk of spreading disease to the model and anyone who must handle or stitch the garment after the fitting.
We believe by following these safety precautions that we can safely meet with clients and fit models, and keep product development moving forward!
Together with AIBI we created this PDF guide, Coronavirus Safe Fitting Procedures, available to download for free.