This recap is a few weeks behind, but I wanted to share my experience at Fashion Focus Chicago 2014. The week started on October 14th with the Fashion Town Hall kick off event at the Chi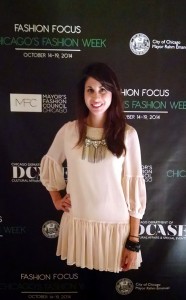 cago Cultural Center. The program, headed by Mayor's Fashion Council director, Tonya Gross, featured speakers from the various fashion organizations, including AIBI and Fashion Group International, the Macy's Fashion Incubator program, and all of the local colleges with fashion design programs.
One of the interesting organizations I learned about was HIVE Chicago, which networks high school students with local designers and companies for internship and learning opportunities. I also found out that the SAIC's fashion resource center is open to the public, I will definitely need to make time to check that collection out!
The presentation highlighted some great companies and designers here in Chicago, including Shernett Swaby, Lagi Nadaeu, Oxford Clothing and Optimo Hats.
Nena Ivon gave the keynote address, and was very interesting to listen to. She's a current instructor at Columbia College, and has an extensive background in fashion from working as a the marketing director for Saks Fifth Avenue. She gave advice to designers about promoting themselves, and the importance of wearing your own products (or bringing a model with you to events if you design for another market):
"I've one of one, I've never been one of many."
"Who knows you better and your product better than you do?"
She also pointed to some figures that show that the Midwest will become the hub for the country by 2025 (let's see!)
Following the program, emcee Ryan M. Beshel led a panel discussion with some industry figures including Nena Ivon, Maria Anderson (of Agency Galatea), Diana Michelle and Jivesh Toor from J. Toor (honored in September by FGI as Rising Stars in Menswear), Lagi Nadeau (honored by FGI as Rising Star in Women's Apparel), and Jonathon Smith of StyleChicago.com.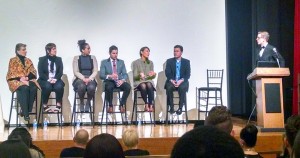 Some take-ways from the discussion (paraphrased):
Ryan M. Beshel: Take your blinders off and look outside of the city, and country for inspiration.
Jonathon Smith: Figure out the business side of fashion before doing runway shows. Take advantage of mentorship expereiences.
Nena Ivon: Listen to honest feedback, it's not personal. 
Diana Michelle: Know yourself and how to communicate and define your personal brand. Also, maintain relationships and figure out who do you want to do business with.
And some exciting news, the Chicago Fashion Resources listings are back!