Technology has obviously influenced our lives and fashion in many ways. But besides actual gadgets, how else is technology incorporated into clothing and textiles?
In this article from Business of Fashion, fashion technologist, Dr. Amanda Parkes is interviewed on the subject of wearable technology:
http://www.businessoffashion.com/2014/11/amanda-parkes-wearable-tech-gadgets.html
Wearable fiber technologies include many properties: waterproof, glow-in-the-dark, odor resistance, anti-microbial, temperature control and temperature sensitive or reactive materials. Some of these are not new, but I mention them as they go along with this expanding field of fiber technology. Many active wear and performance companies are using these types of materials in their products already.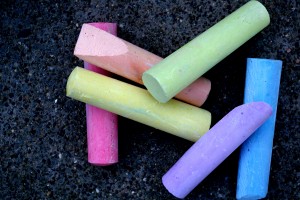 Thermo-reactive doesn't need to  bring back memories of hypercolor:
http://www.smithsonianmag.com/arts-culture/why-hypercolor-t-shirts-were-just-a-one-hit-wonder-3353436/?no-ist
Now, companies like Sommers Plastics and HSD Zipper have modern thermo-chromatic technologies available.
Columbia Sportswear has the patented Omni-Heat Reflective technology built into many of their outerwear coats, shoes and accessories, which reacts to your body's heat and reflects it back to you, keeping you warmer in the cold.
http://www.columbia.com/technology-omniheatreflective/
http://gearjunkie.com/columbia-turbodown-insulation-jacket
Combining water proofing with breathable material in one fabric? Check out materials from AKAS Textiles and Kendor.
Textile shows are a great way to find out about the latest and greatest materials and technologies that companies are making. This month, TexWorld USA will be in New York January 19-21. For more information, visit their website.