With the holidays just around the corner, you've probably started to notice your email and news feed being flooded by Black Friday sale previews. It can be hard to not feel enticed by all of the great deals that are showing up every other day in your inbox, however -- it is all an illusion. Retailers take advantage of Black Friday (using tons of marketing) to get your money that day, and try to make up for losses earlier on in the year. The reality is that most big retailers continue to have sales throughout the holiday season, and not just on Black Friday and Cyber Monday.

So, instead of filling Jeff Bezos' pockets with even more money (he gets plenty of our Amazon Prime dollars the rest of the year), here are some other ways you can spend your time on Black Friday:
1. Stay in bed in your pajamas and nurse your Thanksgiving dinner food coma.

2. Decorate your house for the December holidays now that we have officially moved past Thanksgiving and no one can give you a hard time for decorating too early. #OneHolidayAtATime

3. Complete a random act of kindness or volunteer somewhere. Spread holiday cheer!

4. #GetOutside - Take a walk, enjoy some fresh air. Maybe meditate because you need it after comments made by extended family members at dinner last night.

5. Eat another piece of pumpkin pie. Because I am 99.9% sure that there are leftovers hiding in your fridge.
Now that you have successfully avoided Black Friday, you can now wholeheartedly participate in #SmallBusinessSaturday! Small Business Saturday is all about buying from and supporting locally owned businesses. This includes shopping stores in your own town or (nearby metro area), small brands on Instagram (#shopsmall) and checking out independently run holiday markets. This is a great way to put money back into your community, because when you shop small, what you are really doing is helping a store owner pay for music lessons for their child, instead of contributing to a holiday bonus for a CEO.

Many communities have holiday markets to make the shopping local even easier for you. I wanted to share some great holiday markets here in Chicago that you should check out:
---
Made In Chicago Market
A celebration of innovation & beauty in local craft & design from the hardworking hands of Chicago makers.Up next: 11.30.19
Hosted by Chicago Sun Times.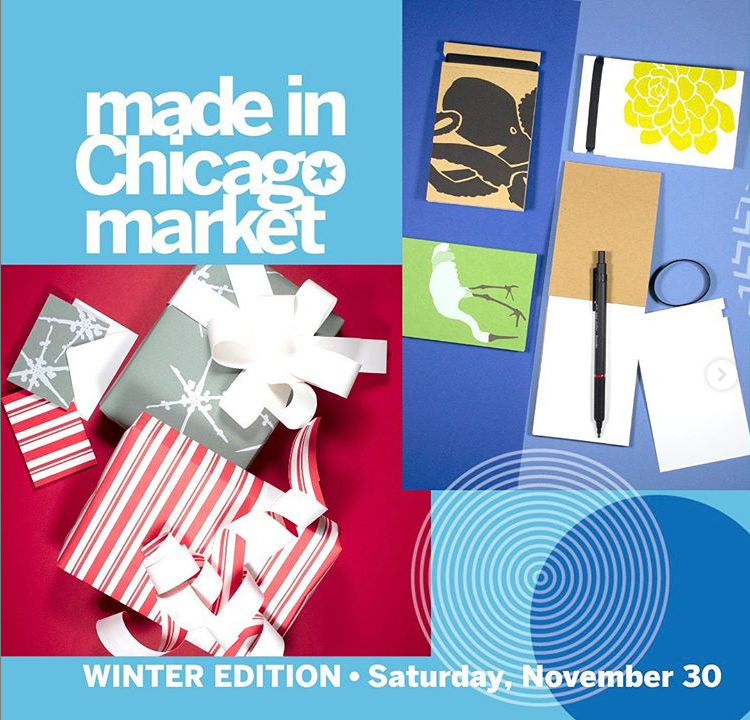 ---
Santa's Workshop 4200 - A Marketplace for Unique Art and Seasonal Gifts
A Market Place for Unique Art and Seasonal Gifts. Open Studios throughout the building and guest Artists and Vendors!
---
Chicago Artisan Market
This curated market celebrates the ingenuity of independent, small businesses who channel their passions into creating one-of-a-kind products. Meet & shop with the artisans and learn how they make their products, eats, art and confections. Look, feel and taste your way through this delightful marketplace!
---
BIDE Market
This is a fully sustainable, plastic-free, vegan, and cruelty-free shopping experience that will take place seasonally. If you're a sustainable brand that would like to take part in the first market, let us know! We're looking for vendors and sponsors who are making intentional choices, creating plastic-free products, making without animal products, and are interested in conscious consumption.
---
Show of Hands Chicago
Founded in the summer of 2013 by Chicago-based design company, OrangeBeautiful, SHOW of HANDS was created to be more than just another craft show. It's a commitment to independent design. It's the presentation of high-caliber work in a professional way. It's the understanding that craft can be couture and handmade can be high-end.
---
One of a Kind Chicago
The 19th annual One of a Kind Holiday Show will return to The Mart from December 5-8 with more than 600 talented artists and makers. Enjoy a one-of-a-kind experience while browsing and shopping from a variety of categories of handmade work. This includes accessories, bath & body, ceramics, fashion, home goods, holiday, photography, sculpture and more!
---
MADE Holiday Pop Up
A carefully curated experience showcasing handmade, tailor made, custom made, homemade, loft made, city made, kitchen made, well made, finely made, creatively made, uniquely made, precisely made, beautifully made, perfectly made, outrageously made, delicately made, in-your-face made, and deliciously made.
---
West Lake Market
The West Lake Market is the West Loop's best admission-free shopping experience with Chicago vendors and local products. From skincare products and jewelry to fresh bouquets, clothing, and furniture- local products will adorn the street and offer an exclusive day of shopping in the West Loop, with plenty of free street parking available. The West Lake Market takes inspiration from markets across the globe, incorporating unique vendors and family activities to create a wonderful, admission-free, Saturday experience for everyone.
---
Renegade Craft
After years of nurturing artists and Makers of all disciplines, Chicago's expansive creative community has grown to be an international force in arts and culture. Our Flagship Wicker Park Fair is known as the epicenter of craft, where over 400 of the best Makers + Designers gather for a bustling and inspiring weekend that never fails to attract huge crowds.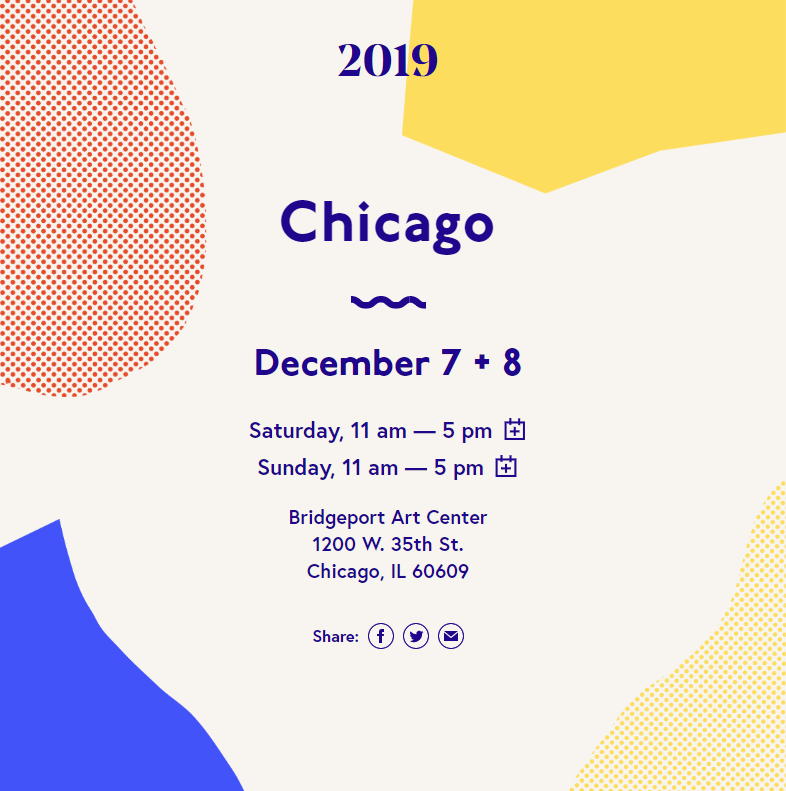 ---
If your goals include wanting to avoid excess packaging, or maybe you've already Marie Kondo'ed your home this year, another great option is the gift of experiences. This is also more sustainable and it gives the receiver a fond memory (rather than inadvertently contributing to more clutter that they might eventually re-gift or get rid of anyway). You could:
Buy a gift certificate to a restaurant or even a hotel - maybe your sister and her husband could use a night out without her kids!
A membership to a museum - maybe your dad loves science, or your nieces would love to play at the children's museum.
Plan an outing - maybe your mom would enjoy a spa day, but even better if you go together!
I hope that this list gives you some good ideas on alternative ways to shop this holiday season, and to think more consciously about your purchases and where your hard-earned dollars are going.

While small shops and brands are awesome, and attending markets are also a fun way to spend your weekend with friends, we understand that these places might not meet all of your Holiday shopping needs. Obviously, you can't buy the new iPhone 11 at a Holiday market. However, if you plan ahead and are intentional to start your shopping supporting small businesses, you can rest assured that your money is supporting people and their dreams instead of big-box chain retailers that just want your money to pass along to their shareholders. After finishing what you can by shopping small, then you can fill in the gaps at places like Amazon or Target as you need to, and still feel good about the impact you have made.