On the tail end of Fashion Focus Chicago, the first Chicago Textile Expo was hosted by my friends at the Fine Fabric Sales showroom, Diana Muzzy and Flo Fiore-Battaglia. I was invited to be a speaker and my seminar was called, How to work with your Pattern Maker.
I brought my experience as a freelance pattern maker as well as my experience working for a full-scope development service provider. I discussed pattern terminology, and how to communicate your design effectively through tech packs, reference garments and went over the basics of pattern "warranties", grading and marking. It was great to answer questions from the group and meet new designers and students who attended the seminar.
The Expo itself was great as well, it's always fun to see what's new in fabrics and trims from the various vendors. All in all it was a successful show, which we celebrated during the industry networking night on Tuesday 10/21.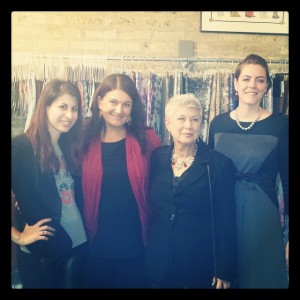 Pictured above with (left to right) Flo Fiore-Battaglia, Diana Muzzy and Jessica Steffes.  
EDITED: As of November 2014, I am no longer associated with The Apparel Agency.