With Chicago being the latest stop for the multi-city wholesale fabric trade show, DG Expo, I thought it would be a great time to A: Tell you about it because you should definitely attend! And B: Review some questions to ask fabric reps when you attend trade shows and are sourcing fabric for your brand. Whether your company is brand new or you have many seasons or even years under your belt, sourcing is a task that never ends. There is constantly new development from textile mills, trends change, and of course you want to design with new materials and give your customers new options to shop!
BONUS: At the end of this post, I have a FREE Sourcing Toolkit available, just for you!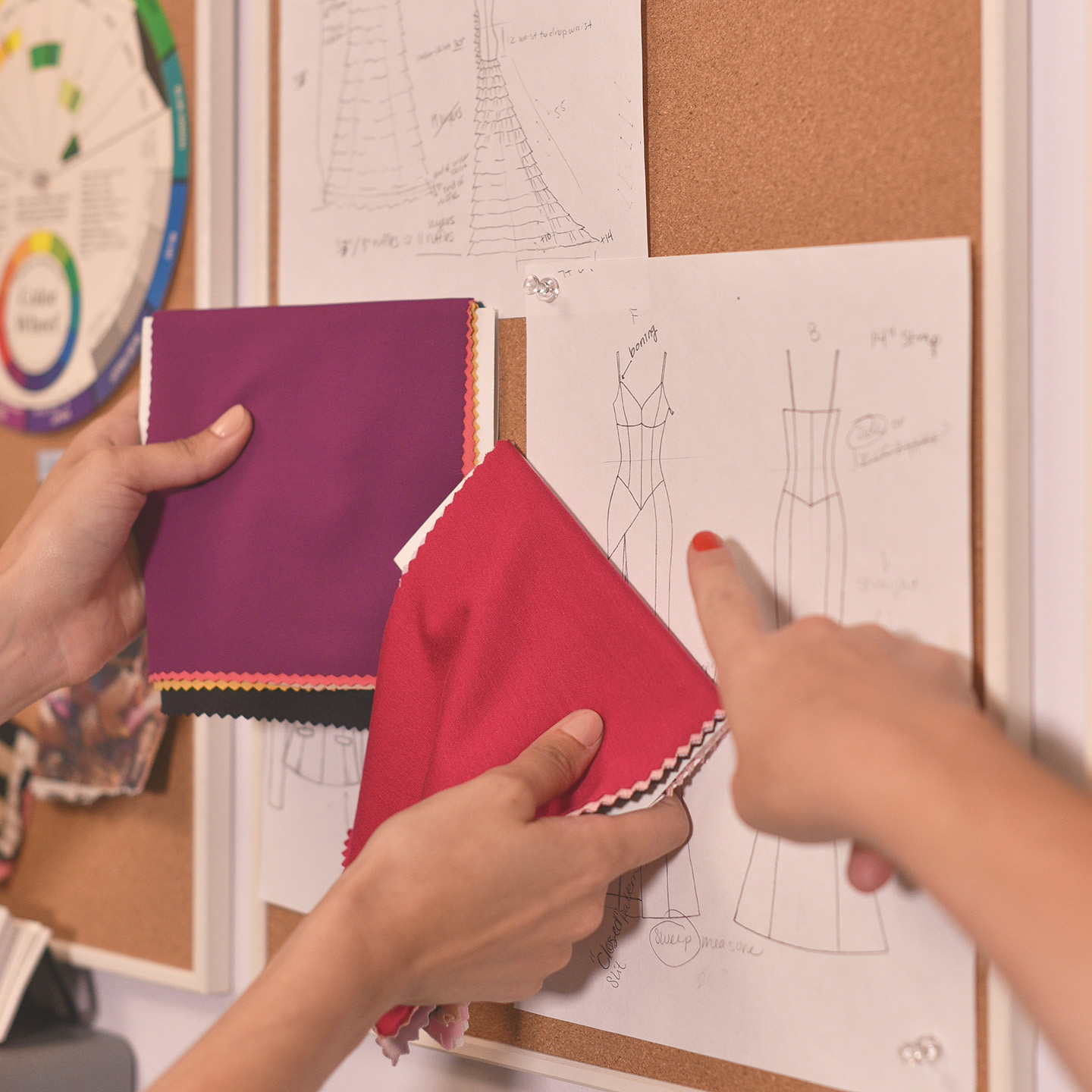 1. Introduce yourself and tell them what you are making.
Many newer designers try to keep their products a secret, but the truth is, the fabric supplier (and your pattern maker, design team, and factory partners) are not in the business of being your competitor. The fabric rep wants to sell you fabric, and they can help you best if they know what market and end product the fabric is intended for. You don't have to share your specific designs, but being able to tell them, "I'm making an evening dress," or, "I'm making a hunting jacket," or, "I'm making a technical pant for cross-fit athletes," is very helpful to them. They can make proper recommendations, or help guide you if you choose something that might not work well for the purpose you intend. That said, having your sketches or photos on hand is not a bad idea!
2. What is the price, MOQ, and do they sell sample yardage?
If you are a new company, you will want to work with companies that have low minimums, usually 20-100 yards, and offer sample yardage as low as 5-10 yards. MOQ = Minimum Order Quantity.
3. Is there a surcharge or different pricing for sample yardage?
Sometimes a company will sell sample yardage, less than their production minimum, but the cost per yard is $7 instead of $5, or they might charge a cutting fee such as $50 in order to sell you less.
4. If the minimum is "1 roll" - how many yards is on a roll of this fabric?
Rolls differ based on weight, so it's good practice to confirm how many yards on on the roll - 50? 80? 100?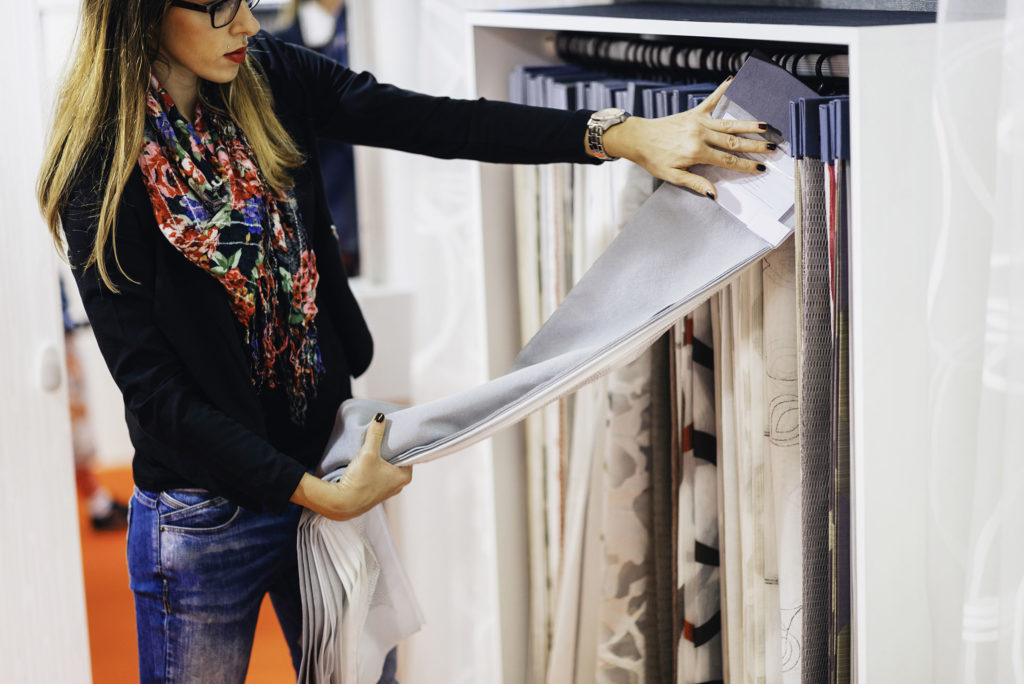 5. Is this a stock item, made to order, and is there continuity?
Stock items are things that the vendor keeps in stock on a regular basis, meaning re-orders should be easy for you. Made to order items will usually have a longer lead time, or may have a higher minimum order each time you re-order. Continuity means it's something you can get again. Mills typically have continuity; Jobbers (or fabric re-sellers) typically don't. That's not necessarily a bad thing, you just need to know if this fabric is limited or not so you can design and plan for sales and inventory accordingly.
6. Where does it ship from? How long does it take to receive after I place my order?
Knowing whether the fabric is being shipped from New York or South Carolina vs. China or Mexico is important, as you will be responsible for the shipping costs. Keep this in mind when calculating your product pricing, to add in shipping costs as applicable. It might make your cost per yard $0.50 higher, or it might be more significant. Also keep in mind, if it is being shipped from overseas, you should plan ahead and try to ship by boat rather than air if that's an option, since it will usually save money. Find out what the ship lead time is, regardless of where it comes from, so you can plan your production timeline accordingly.
7. What are the payment terms?
Typically, as a smaller company, or a new customer, you should expect to pay in full for everything. Established customers may be extended credit terms where you can pay a deposit and balance after delivery. Find out if they take credit cards, or if you need to send a check or wire transfer.
Now that you've found out some basic information from the vendor, and have perused their collection of fabrics and materials, gather your notes and order swatches so you can review your options at home. Ask to take photos, which will help you remember everything you saw. It's easy to forget after a day at a trade show, seeing many materials and vendors, what you saw and what you liked best. Take a photo of your order form and/or take note of item numbers, content, color options that you requested. That way you are able to easily follow up with the vendor once you receive your swatches.
Make sure the fabric headers indicate the item number, fiber content, and weight. If not, ask.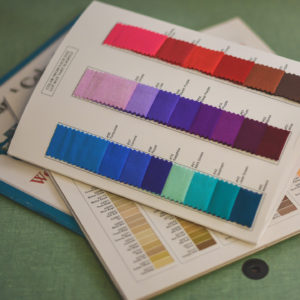 Some more questions you might ask:
8. Does this come in other colors, or can I customize the color? If so, what is the MOQ and cost?
Often times the headers will show all colors the fabric is available in, sometimes you will need to ask. Depending on the mill, you might be able to order a custom color, but do expect a higher MOQ and cost for a custom item vs. one of their in-stock color programs.
9. Do you offer this as PFD?
PFD means Prepared for Dye, and is a good thing to ask if you plan to dye the fabric yourself or at a dye house, or if you plan to sublimate or print on your fabric after you purchase it.
10. Do you have this material in another weight?
Sometimes you'll fall in love with a material's hand feel, texture and color options... but it's too lightweight for the leggings you intend to make with it. Sometimes vendors will have a similar material (same content and structure), but in a heavier weight that is more appropriate for your product. It's always best to ask!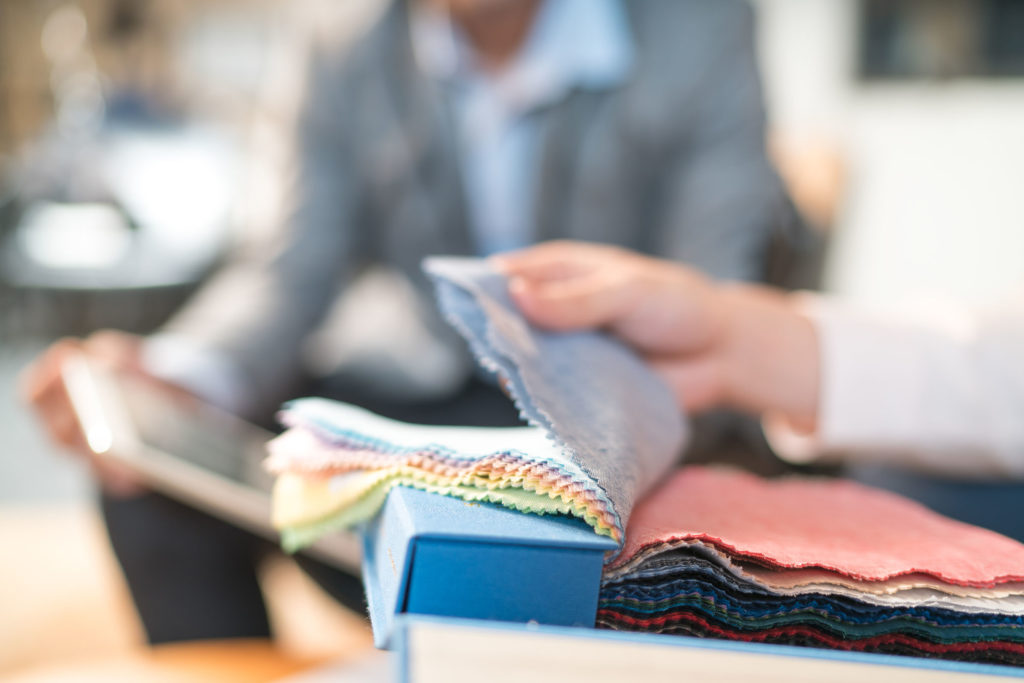 Fabric Show TIP:
Bring your business cards! If your business card does not have your mailing address printed on it, I suggest printing out some mailing labels with your name/company and mailing address, which will save you time from filling out this information over and over again. If you have a UPS or FedEx account, it's good to have this number on hand (save it in your phone notes), as sometimes vendors will want you to cover the shipping charges, and this makes it easier for all. If you don't have one, I highly recommend registering for an account. You'll just need to link it to your credit or debit card. Remember to instruct the vendor, to ship with the cheapest method, unless you are actually in a hurry for some reason. Some vendors ship on their dime, which is nice too.
Preparation is KEY.
Sometimes reps are weary of smaller designers and start-up's, so the more organized you are, the better. Asking good questions will give them more confidence in doing business with you. You aren't as likely to encounter this at a show like DG, since it is geared towards low-minimum orders, and therefore they work with smaller companies (and are used to some people coming unprepared), but it's still best to start off your new relationship on the right foot. Trust me, they will appreciate this!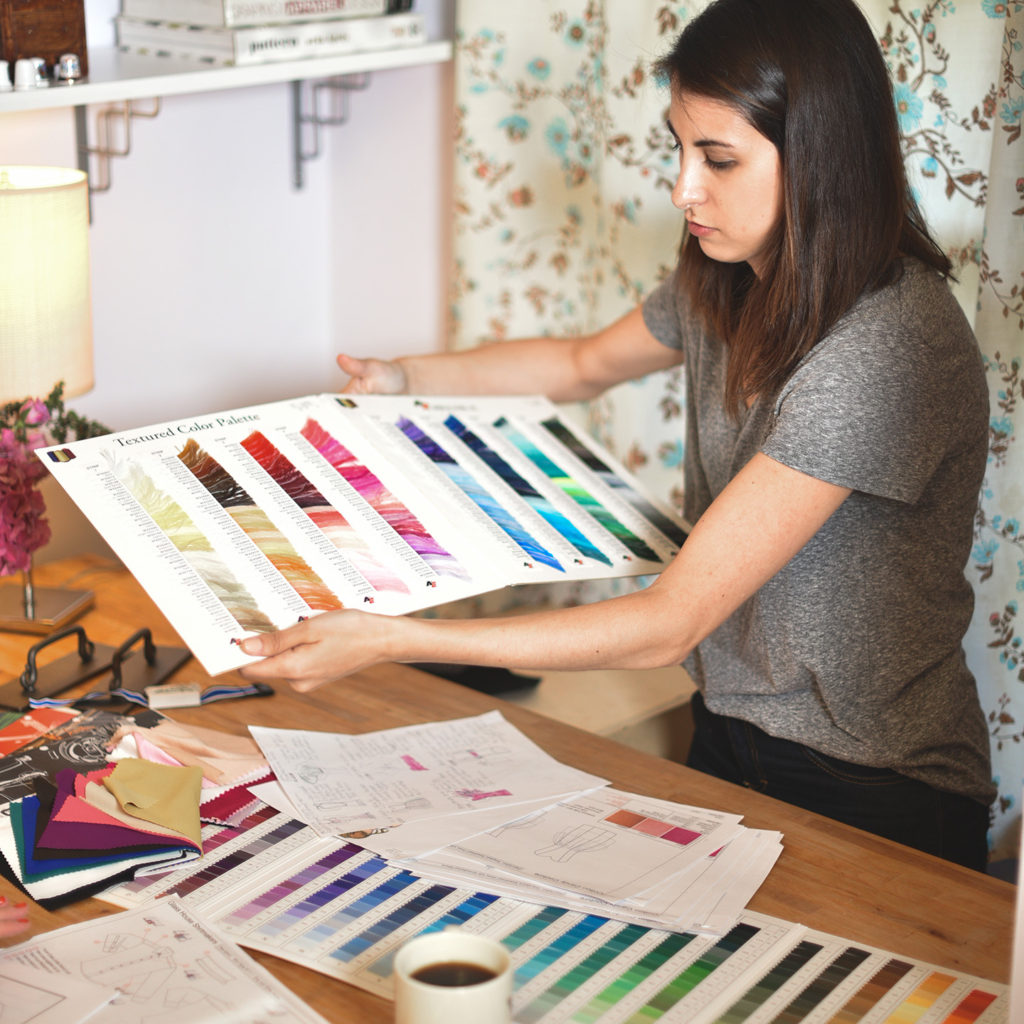 Check out this FREE toolkit I created for taking notes as you source new vendors and materials. Also helpful for post-show follow-up and to keep all your sourcing information organized during development.
If you have any other questions related to fabric sourcing, please leave a comment!
ABOUT DG EXPO CHICAGO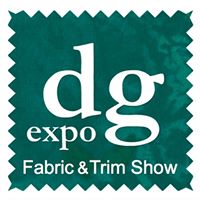 DG EXPO features a two-day Fabric & Trim Show for Designers, Manufacturers (producing Apparel, Accessories, Home furnishings, other Sewn Products), plus Private Label Retailers, Fabric Stores, Event/Party Planners.
Exhibitors are Wholesale Suppliers (including Mills, Converters, Importers, and Distributors) who have low minimums, and many have in-stock fabric and trims. And... Seminars focused on Business Growth & Profitability, plus Textile Classes!
More Info: DG EXPO CHICAGO
Register here to attend the show - it's FREE!
PLUS: Come Meet Me at the Show!
I will have a table at the show and would love to meet you! The Chicago Pattern Maker is sharing a table with Jess Crane Design and OnPoint Patterns.
The Fashion Group International of Chicago will also have a table, and will be having a drawing for a FREE MEMBERSHIP! FGI is also hosting a holiday party on December 6th from 7-9pm, and playing a video Spring/Summer Trend presentation at 6:15pm. MORE INFO HERE.